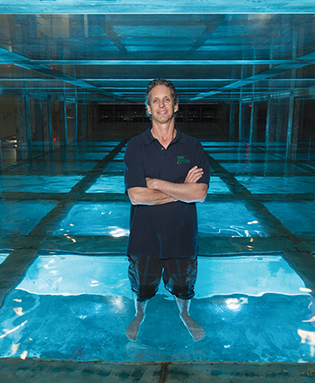 Our SUSTAIN air-sea laboratory offers a controlled setting for simulating a wide range of coastal atmospheric and marine conditions, including powerful hurricane winds and storm surges.

It's an ideal facility for scientific experimentation, student learning, and industry partnerships that focus on saving lives, developing new instruments and sensors and testing products under demand conditions.

Our center's benefactor, Alfred C. Glassell Jr., was an avid sports fisherman and the founder of the Transcontinental Gas Pipeline Company in Texas. He recognized the importance of marine research, particularly in coastal regions like South Florida, and his philanthropy supports our leading-edge program.

We invite you to learn more about our SUSTAIN Laboratory and the many opportunities it provides for atmospheric and marine research, education, scientific modeling, and commercial product development.



Brian K. Haus , Ph.D.
Professor and Chair, Department of Ocean Sciences
Director, Alfred C. Glassell Jr. SUSTAIN Laboratorys
Rosenstiel School of Marine and Atmospheric Sciences
University of Miami